The Songster
Greg Brown Takes 8 Steps in Albany

Story by Gary Alexander
Photos & Artwork by Ray G. Ring
You're bound to be mystified when you first discover Greg Brown. That stray track you may have caught on the radio here and there (Shawn Colvin's cover of "One Cool Remove" or that duet by Willie Nelson and Carlos Santana on "They All Went To Mexico" that was a hit in Europe or "Sadness" from the soundtrack of Dream With the Fishes) could have poked the edge of your interest without drawing you in for several unworthy reasons. Hopefully, some words about those reasons and about Greg Brown himself will persuade you that his appearance at the The Eighth Step Coffeehouse in Albany (8 pm, Friday, November 14 [1997]) deserves your presence.
If you're not yet acquainted with this unique artist's body of work, you simply won't be prepared for the depth and diversity you'll find in his albums. Sampler tapes sent to friends around the country who said the magic words "Greg whom?" have drawn unanimously stunned responses from all age groups- "Why haven't I heard of this guy?"
One reason may be that Brown records for Red House, a small independent label in Minnesota that hasn't power-hyped its artists to kingdom come and albums by Greg (when you hear him, you want to call him Greg, you'll see; he's instantly into your veins like fresh blood) can be hard to find. But, like a pilgrimage to Albany, the effort to seek them out, order them locally or hunt them down wherever they're hiding, brings exceptional reward.

Greg at Falcon Ridge 1999

First lesson; the label's catalog glistens with extra care you won't find in the quickbuck, hit or miss output of megacorporate pushers. (While I was wandering around the sterile corridors of Polygram Records with my security badge in place last week, looking for traces of musical savvy at the executive level, one of the top guns was telling my friend, an amazingly talented male singer-songwriter, that male songwriters weren't producing anymore. All the good stuff is being written by women. It's the kind of quip she might have heard at a cocktail party and took as gospel and, with fond acknowledgment to the sparkling contributions from scores of today's female artists, it's not only utter nonsense but the kind of horse blinder focus that makes you wonder if she even listened to his music.) This is not wild-eyed speculation. Another top executive readily admitted he doesn't listen to "the product" anymore- he leaves that to his way-young A&R people and, after all, this was supposed to be a meeting with a manager and artist about numbers, wasn't it? No, not musical numbers...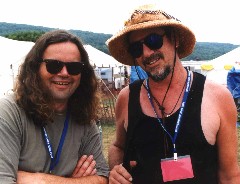 Roamin' Radoslav Lorkovic with
Greg at Winterhawk '01

It's a sound wager that this exec, who needs one magnetic card to slip into walls to open doors at the office and another to press against a sensor outside the washroom, has never listened to Greg Brown. Unequivocally, Greg is one of our top five songwriters; his 1996 album Further In was the cream of last year's crop and a tune on it, "Where Is Maria?" has this vote for song of the year.

His deceptively simple, uncluttered arrangements boil with rich inflection, subrhythmic interplay and direct melodic impressions that flow as naturally as a country brook, retaining an all too scarce purity from inspirational spark to unpretentious delivery. An unassuming backwoods philosopher, his lines sting, stir, amuse, chill, arouse, soothe and envelope with sonorous tones that one adroit reviewer describes as sounding "as if he swallowed a distant thunderstorm." Lines emerge to stop you in your tracks while the organic logic of the progressions ease you along. No one, no one, so effortably embraces the sensibilities of such a striking range of musical forms just by being who he is and treating the whole spectrum of life with his mordant, intelligent gaze.

"The term I really like, which is never used anymore- but I think it describes people like me- is songster," said Greg when reached in his Iowa City home. "The songsters were what a lot of people think of as the old country blues guys...They recorded country blues but they did a real variety of songs...That's what I think I am- a songster."


Folk, blues, rock, country, soul, younameit; do flavor Greg's songs but almost as an afterthought to the wit, warmth, insight and raw wisdom of what is first and foremost a Greg Brown tune.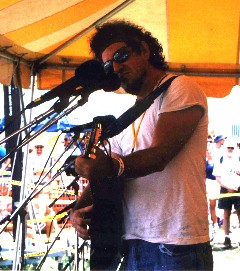 Greg at Falcon Ridge 2000

"They feel to me like presents, to tell you the truth; the songs do," Greg said when baitedly asked what his 'secret' is. "Obviously, I love music and songwriting and I'm into it. I listen to a lot of music, read a lot of books and I love language and music; all that stuff. I mean I'm into it; I work. But, the songs themselves, I don't really know where they come from or how they happen. They feel like gifts, really."

Perhaps a bit more revealingly to someone who wonders how he achieves such natural flow in lines that can take abrupt twists to deliver their impact without ever sounding false or contrived, Brown tagged a thought at the end of a list of favorite literary figures (that included Whitman, Hardy, Gary Snyder, Thoreau, Neruda, Ferlinghetti, etc.); "-all the beat poets, really, particularly (Snyder and) Ferlinghetti- I like that guy. I think I learned a lot about the free and flowing use of language by reading his poems when I was younger."

Brown's grandmother was a poet who passed down a family journal of observations; his grandfather played banjo; his mother electric guitar. He studied classical voice and piano as a child, opened for Eric Andersen at 18 and headed east to head up hootenannies at Gerdes Folk City; tried Portland, LA and Vegas; ghostwrote for Buck Ram.

"I didn't start putting out records until I was 29 or 30 (because) I didn't play from the time I was about 23 till I was about 28. I quit for awhile...drove a truck, worked at a hospital, worked at a library. I just had jobs..." (Until a friend with whom he had played duos moved from Wisconsin to a house down the road from Brown in the Iowan countryside) "...we started jamming a little bit and then he said 'I got this gig. Why don't you come sit in with me' and the next thing I knew, I was back at it..."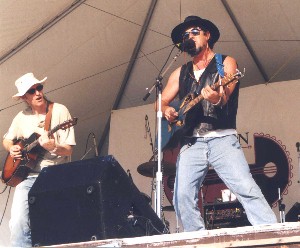 When he sent a tape to independent labels of the day, Brown encountered a Catch-22 in those who liked his songs but wanted to know how much he was touring to promote an Indy record. Figuring he could tour if he already had an album out, he founded his own little label- which became Red House.

"When I moved to Minneapolis" (to become a regular on Public Radio's Prairie Home Companion from 1983 to 1985, an experience he values for teaching him to write regularly "under the gun") "I met Bob Feldman and (he) actually turned it into a bonafide label. He runs the thing now...and the advantage to me is like- complete freedom. A number of years ago, I put out an album of the poems of William Blake that I set to music. And I can do stuff like that on Red House...So, I really love the sense of freedom I have there...If you want to sell a million records and get rich and famous then I wouldn't recommend an independent label to anybody. But, for my style of music, my goals in music and life; it's worked out fine."

And it's another prime reason you may not have heard of Greg. He'd rather go fishing than jump through promotional hoops; "The way my touring schedule works, I'll tour a lot in the country, make it to New England and New York State in spring and fall. I take off winter from the road and during the summer I'll do some folk festivals. It's not too bad of a schedule, really." Like his label, it's comfortable and, like his label, brimmed with quality. Red House offers consistently fine music from acts like Guy Davis, Paul Geremia, John Gorka, the Chenille Sisters, Kate McKenzie, Ralph McTell, Spider John Koerner, Bill Staines, Utah Phillips, Lucy Kaplansky and others. A Ramblin' Jack Elliot album recently won the label a Grammy and Brown's own One Big Town and The Poet Game have won NAIRD (National Association of Independent Record Distributors) awards. His duo album with Bill Morrissey (on Philo) was nominated for a Grammy in 1994.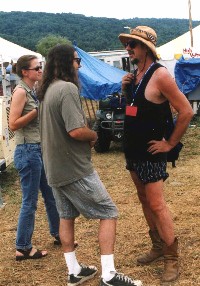 Greg Brown Fashion Statement

The most exciting and enviable thing about an ignorance of Greg's music is the "hidden" treasure trove of 14 albums still ahead of you. For fans, Slant 6 Mind, released only weeks ago, is already a good friend, delivering what you were fruitlessly looking for when you picked up that new Dylan CD. It contains "Vivid," an answer to Ani DiFranco's "The Bouquet"- which was written for Brown and came out of nowhere after he had already taken off for the winter to work on a songbook. That songbook has an ominous edge because Brown has expressed an interest in going out "like a good boxer," retiring early, even as his circle gets wider and younger, to concentrate on fishing and writing. He even mentioned a fantasy about holing up in one of those old Albany brownstones to work out a novel.

So, leap at this chance to catch live not only the songster but a fascinating humorist and storyteller who weaves it all in spontaneously right before your eyes. (His live album really was by popular demand and he packs thousands into concerts back home). Chances are, if his work is unknown to you, you won't be just entertained; you'll be blown away.

[Editors note: The following information was updated 07/22/01 as the venue has moved since this article was first published]
8th Step Upstairs phone and location is:
518-235-3783
Cohoes Music Hall,
58 Remsen St, Cohoes, NY.
-Gary Alexander

Swapping tunes with songsmiths Steve Forbert (left),
Slaid Cleaves & Mary Gauthier (not shown),
and Radoslav Lorkovic (right)

A sad song for the back row
---
Gary Alexander is an independent journalist and scholar whose focus of interests range through a variety of disciplines. Under various names, he has written (and ghost written) upon history and current event; science and technology, as well as music and the arts in books and for national periodicals. While particularly attentive to the subtle and complex impact upon cultural imagination and contemporary structures of presumption which activity in the above mentioned topics tend to have, Alexander treats his topics with a slightly more than occasional resort to humor.

Posted on July 22, 2002