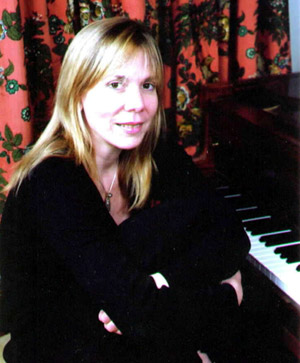 Photo by Dion Ogust
Anna on a Bridge
An Evening With Anna Cheek

Sunday March 16th, 7:30 PM
Colony Cafe, Woodstock, NY
22 Rock City Road. 845-679-5342

Story by Gary Alexander
There's something about a bridge.
The most immediate image to spring to a majority of minds would be the architect's artificial structure linking two points across a natural barrier. If you're a dentist, you might have another first thought and a crafter of stringed instruments would likely envision the supporting brace under the strings. But to musicians themselves, a bridge is a transitional passage and, as such, wed to the architect's design as a powerful metaphor. That's why the appearance of a footbridge on the cover of Anna Cheek's engrossing debut album, Closer to Now, seems particularly apt.
Bridges connect. So, too, does the essence of this album. But, more than that, it is itself a bridge of sorts. It connects back to a flavor of music which flowed from the foothills of the Catskills around the world and it does so with a personal musical integrity which provides continuity not only for those traditions of sound but for the individual journey of its primary creator. This is a new bridge to a bright future.
In the Digital Image Collection at NASA, there's a mind-jolting photograph from space of an old, old eighteen and a half mile long bridge connecting Sri Lanka and India across the Palk Straits. Forgotten for uncounted ages, it is quite vividly obvious to the NASA lenses miles above, presenting a taunting logic of man-made curvature in its shaped shoals and a composition age-dated back some 1,750,000 years. Except that's impossible, isn't it?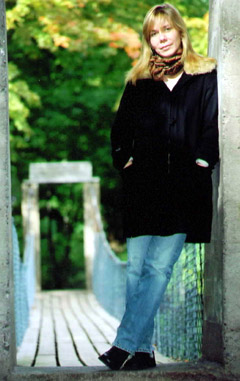 Photo by Dion Ogust

When Anna Cheek looks at her personal bridges, at what she thought was possible and what was not, she laughs; "Over time, I evolved to be exactly where I'd been all along. I just didn't know it."

There's a treasure of folklore and superstition about bridges, like the old, almost forgotten, American belief that a wish made while crossing over a bridge that you've never before traversed will be fulfilled. There was also a primitive regard in different parts of the world that a river is a living thing possessed of a spirit which might be offended by being straddled with a bridge. Hence, sacrifices were a necessary tradition which survived into ancient Rome where each May 15th the Vestal Virgins cast straw puppets made to look like old men into the waters of the Tiber River from the city's oldest bridge.

There is a related idea which is helpful in finding the key to Anna Cheek's music but, before that, we require a few words about the music itself...

CD: Closer to Now

When you put Cheek's cd in motion, you're bound for an almost seamless ride through a blended mixture of musical terrains which center on Anna's voice and piano. The canny production techniques of Michael Bitterman and Robert Frazza, both of whom contribute instrumentally, forge a sense of progression and unity uncommon to such a diversity of textures, even infusing an authenticity of the sway and bite of those unique qualities which have become recognized as Catskill rock. No small measure of that latter attainment can be traced to the presence, on a number of these tracks, of the guitar stylings of Jim Weider, saturated as they are with that bounding woodstove sound through his years as a member of The Band.

The distinct, smokey and finely-grained voice which carries the lead in this succession of melodies weaves in the flow with character, depth and implication, crying for an individuality it fully achieves in varying moods and textures. Grading in a lighter timbre through a grooving phraseology reminiscent of Karen Dalton's rhythmically haunting intonations, Cheek adds something of the elfishly feminine undertones of an Eartha Kitt and melds it into a clearly recognizable vocal identity of her own. The effect of her delivery creates a voice with deeper and more interesting elements of beauty than most of the pretty vocals we are used to in contemporary popular music.

When the spin of the disk has ceased, we can recognize that, within its motions, it has transmitted notice of the arrival on the scene of an extraordinary talent.

Born in New Orleans and raised through her early years in Canada, Cheek spent some further formative years on the coast of Maine before moving to Puerto Rico for a decade.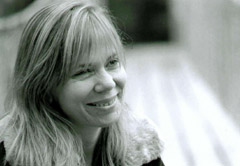 Photo by Dion Ogust

"I was kind of born into (music) in a way, in terms of my sensibilities," Cheek recalls. "I'm a classically trained pianist who started study at 5 or 6 through the Royal Conservatory music system (in Canada). I've always thought of music as being sort of my `safe haven'- a place where I would find solace."

Cheek is quick to point out that it was not the kind of desperate refuge from a horrible life which a troubled child might seek but rather a special "place to be totally at peace and comfortable." For a very long time, her place of peace and songwriting was a place Anna kept defensively private, even as she continued her musical study.

"I didn't want to major in (music) in college because I was worried that if I made it my `job' the passion would diminish," Cheek revealed. "Of course, when you're young, you don't realize that the best thing to do is have your passion be your work. As a child, I protected myself from what I thought might make it drudgery- which is so opposite from the truth...but I didn't know that then."

Finding an offhanded compatibility between music and math, Cheek went to an engineering school and emerged with a career in computers and business with the Timberline software company, an occupation which brought her to Puerto Rico. Through college and as she worked her computer-related job, she continued studying piano with various individuals and writing her own songs. Somewhere along the line, she crossed that first bridge in bringing her musical life into the public arena.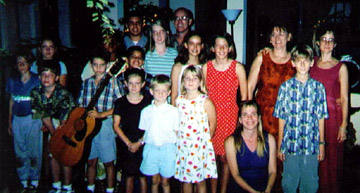 Anna with Students in Puerto Rico

"I started playing in bands with people and at a certain point, when I realized I wanted to be in music, I started teaching," she recalls. "I had almost 50 students down in Puerto Rico at one time, just teaching what I knew even though I wasn't trained to educate as a music instructor. I believe that if you love something and you're well trained yourself, you can pass that knowledge along."

As she evolved her inner world into a more accessible realm, Anna found herself incorporating some of the contrapuntal or polyphonic dimensions she had found interesting in her studies of the classics and her own musical concepts manifestly outreached the kind of cover bands she was playing in. The formation of her own group, Seventh Wave, allowed the inclusion of a high percentage of her own material and brought her across another little bridge in her journey.

The road to the next bridge, Cheek's emergence as a solo artist, began when her husband, an airline pilot, was assigned a route out of New York City several years ago.

"He had been working out of the islands and after a year of being (in New York), he decided it was time for me to come north as well," Cheek explains. "The `probationary' period was over and the commute back and forth was really rough on him, so he started cruising out of the metro area, to Pennsylvania, out to Long Island; all over, looking for a place. On one trip, he cruised up the Hudson Valley and landed in Woodstock. He called me right away and said `Anna, you're going to love it here. This is your kind of place.' I said `fine' and here we are."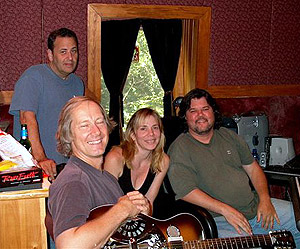 Taking a break during recording of Closer to Now:
(Left to right) Michael Bitterman, Jim Weider,
Anna Cheek, Robert Frazza

After purchasing a property in Palenville in 1999, it took Anna another year and a half before she could settle in full time. Since then, her meeting Michael Bitterman of Midnight Modulation studio while recording one of her songs as a gift for a friend, led to the album project and her introduction to the local illuminaries who shine along with her on its tracks. The credits include names like Tony Levin, Robbie Dupree, Abby Newton, Carl Adami, Donna Lewis, Nick Parker and, remarkably without sounding at all overproduced, a dozen or so other talents.

Lyrically, although the album plays on subtler themes like nuances of relationships, it comes across as a powerful statement, and easily the most notable album of the season, because of a "secret" ingredient alluded to above.

Some artists might characterize a song as "bluesy" or say it has a "country flavor" or comes in "funky" but Cheek mentions her secret casually in passing from a markedly different perspective as she credits Bitterman and Frazza with the capture of the tunes as she heard them.

"The album just sort of grew creatively," Cheek mused. "As an artist having played in bands for quite a quite a while, I had some pretty clear ideas about the emotion and personality of the song but, having limited experience in terms of a professional recording environment, I really didn't know how to necessarily do that. Nor did I know for sure, in terms of orchestration, what different instrumental sounds help accomplish that."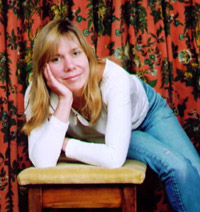 Photo by Dion Ogust

And there you have it. In that statement Anna let slip the secret of the primal vitality she brings to the musical facets of her tunes. When she speaks of the "emotion and personality" of a song, she regards it as a living thing. Just as ancient traditions projected that respect of identity upon a river, Anna sees a given song as being an animated force on its own terms, a being to which she shapes the tenor of her vocals. In that is a sacrifice of one's own emotions to the "personality" of the song. And that is precisely why they work so well as songs...they have personalities.

Jim Weider, Carl Adami and Robert Frazza will be among the supporting cast at Cheek's first formal appearance in the region, along with Frank Campbell, Jon Sherry Manuel Quintana and others. It promises to be an event.

-Gary Alexander
---
Gary Alexander is an independent journalist and scholar whose focus of interests range through a variety of disciplines. Under various names, he has written (and ghost written) upon history and current event; science and technology, as well as music and the arts in books and for national periodicals. While particularly attentive to the subtle and complex impact upon cultural imagination and contemporary structures of presumption which activity in the above mentioned topics tend to have, Alexander treats his topics with a slightly more than occasional resort to humor.

Posted on March 12, 2003