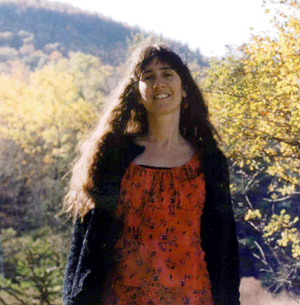 Truth in Small Places
Amy Fradon & Small Town News at the Rosendale Cafe
Valentine's Day- Friday, Feb 14, 2003

Story by Gary Alexander
Photos by Ray G. Ring IV
When one of the most cherished and silken voices of the Catskill-Hudson Valley region arrives at the Rosendale Cafe on the evening of Valentine's Day, it will walk in with the feet of Amy Fradon, poised in her throat and chest like a sleeping cat ready to stretch and frolic through an assortment of tunes from a brand new album.
Co-produced by Amy and John Platania, Fradon's second solo release, Small Town News, is a gentle and engaging acoustic progression of scenes, wishes and visions which pulses with natural life rhythms and feathers its way over higher branches of the landscape.
The album's title is not only also the name of its closing song but the newly adopted appellation of her five-piece backing band. It's not often that you have three choices in a 'which-came-first' question.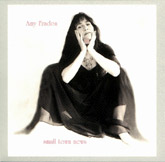 Small Town News

Actually, the band members came in waves, with singer-songwriter Tim Moore the first member to contribute guitar, vocals (and, occasionally, keyboards) to Amy's breathtaking tones in live performance. Ken McGloin, was next to join in on bass and, later, lead guitar when Mark Murphy brought his bubbling upright bass into the bouquet. Harmonies provided by Amanda Rothenberg and Vickie Russell round out the band, which performed without the group title on 1999's Passion Angel, Fradon's first release after her long partnership of performance and recording with Leslie Ritter as "Amy & Leslie."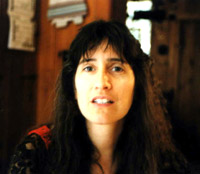 "What I meant by 'Small Town News' is not that we're insignificant in our rural setting," Amy explained, "but rather that, within the context of a smaller area, there are people who really have an impact on others there. Even though we're in a mass media world, that's not really the truth. You find the truth of the human experience in the interactions of smaller communities."
Fradon is preparing to add a "small town news" audio interview section to her website at Amyfradon.com, which will tribute some of the local personalities she feels contribute to vitality of local communities. Also, one of the songs on the new album, "Silver Wings," was written to honor an individual Fradon feels was a "constellation" in the local musical community- the late Rick Danko. She recalls an odd feeling that Rick's spirit had visited her on the night of his sudden death several years ago.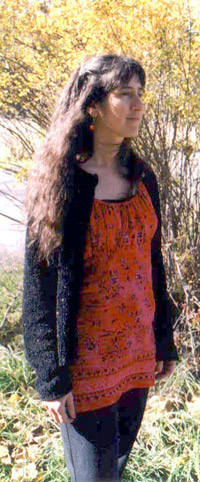 "I couldn't sleep and I went to write in my journal," she says of the notes and poems of that night which would later filter their way into her song. "I've had this feeling before and who knows if it's true- that when certain people die they sort of 'fly around' and check on us...touch us in the spirit before they leave. I felt Rick that night. He had such a great heart, I feel he went around and contacted those who needed it. At home, I was trying to imagine where we go when we die. Do we go somewhere? They talk about going home when you die. Where is that? He was such a special human being and I wondered where he was going."
The opening track on the album, "Come What May," is smoothly percolated with percussional accents contributed by Mike Kimmel and Gary Burke. "Love Blew In" contains sultry percussional touches from Dean Sharp and some delicious guitar work by McGloin- who also delivers some lively standout acoustic licks on "Magic Moonbeam Motel."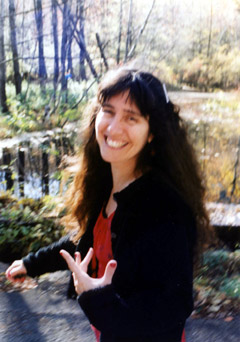 Amy has composed, or co-written, a full dozen of the cd's 14 vehicles for her remarkable voice. One of the co-writes, "Behind Closed Eyes," written with Tim Moore, concerns the self-isolation of a mid-life couple, and another, co-written with Katy Taylor, "The Flowers Still Bloom," taps Katy's talents for some dreamy flute lines and a purely lovely harmony vocal.
On two of the grittier and more rhythmic tunes, "Hambone" and "Nevessa," Fradon gets a hand from one of today's finest blues artists, Guy Davis, who leans in with harmonica and vocal work. Although recorded at Chris Andersen's Nevessa Studios in Woodstock, the latter tune concerns an entrepreneur of feminine charm named "Nevessa" rather than scene of capture.
John Kirk's fine mandolin break lights up the first of the two cover songs; Phil Ochs' optimistic tune about the survival of freedom in dark and perilous times, "What's That I Hear?" and a duet with Moore on the Everly Brothers classic "Let It Be Me" features some splendid guitar work by McGloin and John Platania.
A touching song about "broken people" called "Lily and Billy" was inspired by Amy's recollection of actual people in her neighborhood just as "Magic Moonbeam Motel" had its genesis in a sign glimpsed along a highway fifteen or more years ago.
Mark Murphy hauls out his cello on Amy's "Do Remember Me," a song written into more traditional folk flavors, and adds complementing light vocal harmony. Artie Traum, famous for his slick, and in recent years, jazzy guitar licks, picks up a banjo to propel Fradon's mountain-style spiritual, "The Burning Tree."
Taken together, the songs create a cozy acoustic spell which is easy to return to with some frequency. Taken live, with other additions to the repertoire spotted in, they should cast an even tighter spell over Rosendale Cafe on Friday night.
-Gary Alexander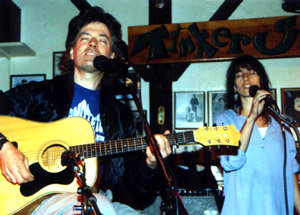 Amy and Tim Moore at Tinker Street Cafe
---
Gary Alexander is an independent journalist and scholar whose focus of interests range through a variety of disciplines. Under various names, he has written (and ghost written) upon history and current event; science and technology, as well as music and the arts in books and for national periodicals. While particularly attentive to the subtle and complex impact upon cultural imagination and contemporary structures of presumption which activity in the above mentioned topics tend to have, Alexander treats his topics with a slightly more than occasional resort to humor.

Posted on February 14, 2003