Hudson Valley music news and musical happenings.
---
Fredro's Blog -- The The Band Band, Live Music Picks
July 15, 2013
Greetings! Hope everyone had a wonderful extended weekend for Independence Day. I know I did! It was a weekend filled with great people, parties, and future memories! I did manage to squeeze in one super awesome show on Friday night at The Bearsville Theater. The The Band Band rocked the house and channeled the spirit of the original Band, beautifully!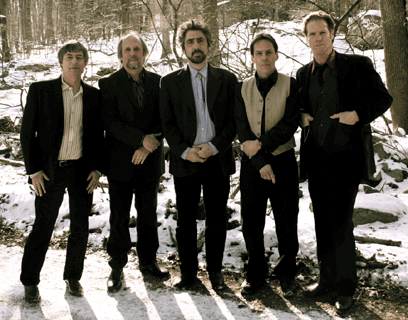 Now, as I mentioned, these guys cover the music of The Band, (hence the name, which I shorten to simply, The Band Band, and may not be so confusing if you think of it as The (The Band) Band. Get it?). But it's not so much a tribute band, as a recreation of The Band's music! And TTBB are quite upfront about this. They say, "We don't do our arrangements. We do their arrangements!" And they do them well, recreating The Band's music note perfect and channeling the spirits of Rick, Levon, Richard, Garth, and Robbie to a remarkable degree! Not an easy task! The Band's music is deceptively complex! It may seem like basic Rock n Roll, but, believe me, it's more complex than that, and not easy to recreate, but they do it, and they do it well!
---
Documentary about "The Goodtimes"
June 26, 2013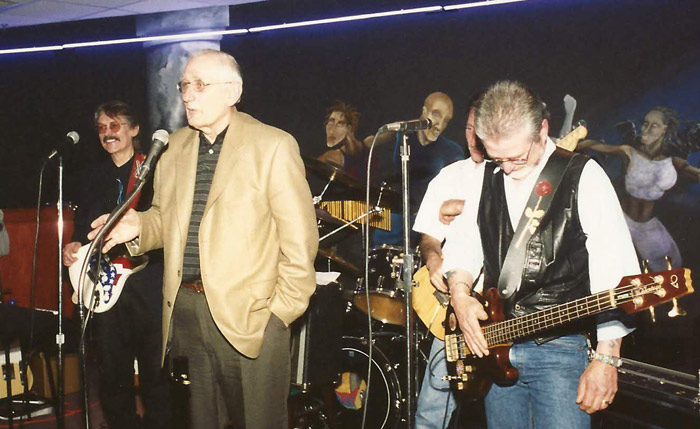 (left to right) Dave Kennedy of The Goodtimes, Frank Pietrzak owner of the Trade Winds Nightclub
and Johnny Babb of The Goodtimes.

In 1989 Michael Raab did a 25-minute documentary on The Goodtimes, a longtime favorite Hudson Valley band, detailing their rise, fall and disintegration over a 25-year period. The video features individual interviews with each band member, as well as rare photos of The Goodtimes in various stages. The documentary has only been seen once and that was a private viewing by The Goodtimes. Is there interest in making this documentary available for public viewing by fans and musicians who knew them? If so please email me directly, or comment below.
-- Mike Raab
---
Fredro's Blog - Towne Crier Moves, Farm Aid Moves, Live Music Picks Stay
June 19, 2013
Howdy Y'all! Hope everyone's enjoying the beautiful weather, when it's not raining. Don't forget, April showers bring May flowers… hey, what the hell? IT"S JUNE!!! Well anyway, be thankful for the good ones when they come along.



The Towne Crier in Pauling has finally closed in preparation for their move to Beacon. In my opinion, this is a great move for The Towne Crier, and for the city of Beacon, although probably not so much for Pauling. That said, Beacon has been up and coming for quite a while, and in recent years, the town has accelerated it's pace of rising hip quotient, so much so that I wanna go there and check the place out! It sounds really cool! I don't know if it's any closer than Pauling, but Pauling was quite a hike, so I don't think it could be any worse! And Beacon will now have a "crown jewel" in it's rising tide of galleries, restaurants, clubs, and places for musicians to play. My best wishes to The Towne Crier in its new location, and folks, they book a lot of different types of artists here, all good. There's something for everyone at The Towne Crier, so please support these guys when they re-open. Moving costs a fortune nowadays and they'll probably need all the help they can get at the beginning.
---
Reservoir Music Notes - Levon Helm Memorial Boulevard, Ray Manzarek RIP, Live Music Picks
June 7, 2013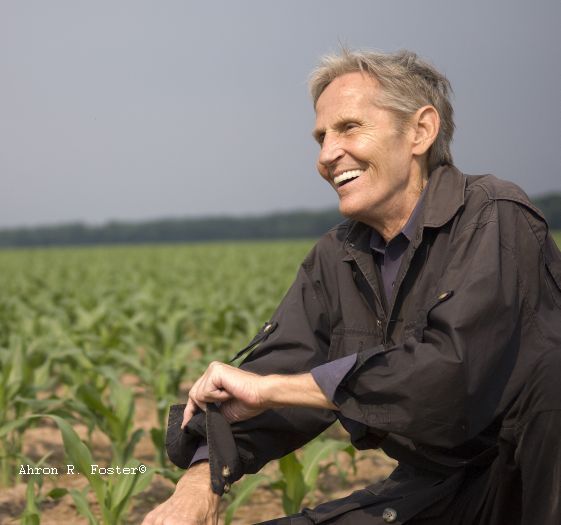 The New York State Senate just passed a resolution renaming all of Route 375, between Route 28 and Route 212, Levon Helm Memorial Boulevard! The resolution, which had previously passed the Assembly, now only needs Gov. Cuomo's signature to become law! This is great news for everyone, and well deserved! I know I'll feel better about not having Levon with us anymore when I drive down Levon Helm Memorial Boulevard!
In other local news, has anyone noticed what a great job The Bearsville Theater has been doing booking bands? In the past year they've had Bob Weir, Mickey Hart, Jorma Kaukonen, Steve Earle, The North Mississippi All Stars, Chris Robinson, Robert Randolph, CKS, Blue Chicken, Moonalice, The Kane Brothers, Python Soup, Dweezil Zappa, Richard Thompson, The Grandmothers of Invention, and The Duke McVinnie Band, and that's just a partial list! Last Sunday's Bob Dylan Birthday Bash, featuring every A-list musician in town, carried on the stellar tradition of the room. How bad could a night of Bob Dylan songs be? But when played by the likes of Larry Campbell, Marco Benevento, Jim Weider, Donald Fagen, Tim Moore, Amy Helm, Connor Kennedy, Teresa Williams, Jerry Marotta, Graham Parker, Jane Scarpantoni, Tracy Bonham, Don Byron, Aaron Freeman, and Happy Traum, you could only say the performances were stellar. Tim Moore delivered a very cool version of "Subterranean Homesick Blues" and Doug Yoel nailed "I Threw it all Away", but young Connor Kennedy stole the show with a scorching version of "Idiot Wind", with his compadre, Lee Falco, who's giving Randy Ciarlante a run for his money as "the most in-the-pocket drummer in the Hudson Valley", on drums! A great night from start to finish! Upcoming shows at the theater include Ian McLagan, Kal David, Richard Thompson, Dave Mason, CKS, and Albert Lee! Kudos also to WDST, who book a lot of the shows at the theater. Keep up the great job you're doing!
---
I Want Your Feedback
May 31, 2013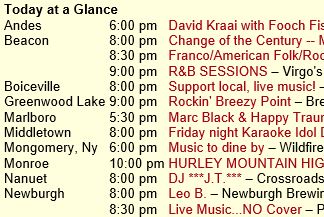 About two months ago we changed the format of the music calendar summary displayed on our home page. We changed the "Today at a Glance" section to group events by town rather than time. We felt this would make the list more easily scannable for events near you. Personnally I like the change a lot, now I can easily see what is happening in my home town.
How do you feel about this change? Is it for the better or worse? Just add your comments below.
-- Steve
---
Reservoir Music Notes - Live Music Picks
May 19, 2013
Greetings, and welcome to this week's Reservoir Music Notes! Not a lot of earth shaking news going on in the music world, so we're gonna get right to this week's live music picks.
Wednesday, May 15 – I don't usually recommend shows as far afield as Infinity Hall in Connecticut, but this week, I'm making several exceptions. Tonight, INDIGENOUS, a Native American blues rock band that I've known about for many years, is at Infinity Hall. The main attraction of this band is their amazing lead guitar player, who is the closest thing to Stevie Ray Vaughn that we've got left! Highly recommended! Also tonight, at The Highline Ballroom in Manhattan, the legendary ERIC BURDON AND THE ANIMALS will be performing their string of gigantic hits, as well as other, blues and rock based material. Thursday, May 16 – Back to Infinity Hall, where the great Western Swing band, ASLEEP AT THE WHEEL, will hold court. Closer to home, the REGGAE IN RESIDENCE series continues at The Bearsville Theater, and THE SLIDE BROTHERS, a sacred steel band sponsored by Robert Randolph will be at The Falcon in Marlborough. Downstate, we've got JOE BONAMASSA at The Beacon Theater for the first of three nights, and the kings of all reggae bands, THE WAILERS, at Irving Plaza.