Hudson Valley music news and musical happenings.
Recent Entries

«Return to Main Blog Page
---
HVmusic is MOBILE!
June 17, 2012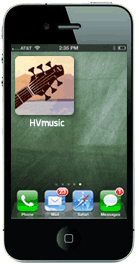 Visit HVmusic on your mobile device and get our calendar of music events and open mics near you on the go on your mobile phone!
To get the new mobile calendar app, don't go to your app store, instead:
Come to HVmusic.com on your mobile device. We'll give you a message when you arrive with a link to get the mobile calendar. If you don't see the message then just click on this link to go to the mobile calendar app.
When iPhone users go to the mobile calendar page you will get instructions for placing an icon on the home screen of your iPhone. (Sorry, other smartphone don't have this feature)
We'd really appreciate your feedback on new features to add. Right now we are only displaying our music events calendar and open mic listings, which we feel are the most useful stuff to see when you are mobile. What other features of HVmusic.com would you like to see added to the mobile version? There is a link in the app so that you can send us an email with your fedback. Please tell your friends to give it a try also.
comments powered by