Hudson Valley music news and musical happenings.
«Return to Main Blog Page
---
Alvin Lee Obituary
March 28, 2013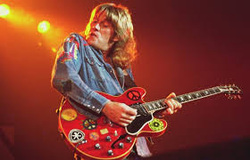 Alvin Lee first exploded into my consciousness on one of the most memorable weekends of my life! It was August 2nd and 3rd, a Friday and Saturday night. The year was 1968.

Friday night, I had a 2nd row ticket to see a band from San Francisco that was generating a huge buzz, specifically about their singer, a young woman named Janis Joplin. The band, of course, was Big Brother and The Holding Company!

The opening act was a band from England that I was unfamiliar with, but within 10 seconds of their opening riff, I was eager to become much more familiar with them! That band was Ten Years After, and their guitarist was the fastest guitarslinger in the land, up to that point! Alvin Lee was mindblowingly fast, yet always remained tasty and in the groove! I had never seen anyone like him, and I don't think anyone else had either!
Ten Years After went on to become one of the genuine Heroes of Woodstock '69. The band became a huge international draw, but ironically got locked into playing "Going Home", their Woodstock highlight, at blinding speed without much regard for the "Roll" in Rock n Roll, for the rest of their career! As an intelligent, well rounded guitar picker who liked to jam and swing as much as rock, this was anathema to Alvin, who left the band in 1973!

Lee went on to record the collaboration with Mylon Le Fevre, "On the Road to Freedom", which featured George Harrison, Steve Winwood, Ronnie Wood, and Mick Fleetwood as guests, and produced the huge international hit, "I'd Love to Change the World"!

Although he remained active in the music business, that was his last big hit, and Alvin Lee passed away March 6, of complications from a routine surgery at the age of 68! He left us way too soon! RIP Alvin! Goin' Home one last time!

Fred Perry is the owner of Reservoir Music Center on Route 28 in Kingston, and founding member of Alt-Country supergroup, The Brooklyn Cowboys, is from a 3rd generation musical family and lives in the Hudson Valley, where he does what he can to promote live music.
comments powered by