Hudson Valley music news and musical happenings.
---
Reservoir Music Notes
April 18, 2013
Water has finally found it's own level in the Rock n Roll world! Ted Nugent is touring with REO Speedwagon and Styx! I suppose it should come as no surprise, as Tommy Shaw of Styx was in Damn Yankees with Nugent, but the point I'm making, is that as much as The Nuge has the Motor City Madman image, he's really more at home with bands from the Midwest who sing in high voices, like REO and Styx! The Nuge is bottom billed, and here's why.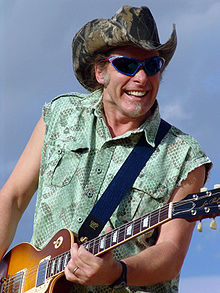 The Nuge is a great guitar player, but in my opinion, is not a much bigger star because of the quality of his songwriting, which is not really very good, with a few notable exceptions! One of the most memorable shows I've ever seen was Damn Yankees at a private party at The China Club in Manhattan, where they performed a series of Chuck Berry, Rolling Stones, and Beatles tunes. Awesome show! I've seen The Nuge on his own, and nothing came close to that show! Why? Songwriting! He showed me he's a great guitar player, but he also showed me he's not a songwriter!
---
How to Join HVmusic.com
April 5, 2013
We are a community website, and we depend on you, our readers, for the content you see here. If you are a fan of local music, then tell the musicians you know to use this free resource. If you are a musician and don't see your band, CD, or event listed here, then add yourself.
It's easy — click the links in the top right of every listing page to add your own listings.
HVmusic.com is reaching over 17,000 unique visitors per month. These are local music lovers who have come here to find out what is happening in local music. If you have questions about how to use HVmusic to reach this audience then just contact us and we'll try to help.
Steve W. — HVmusic founder and webmaster.
---
Reservoir Music Notes - Paul Williams, Phil Ramone Obituaries, Live Music Picks
April 5, 2013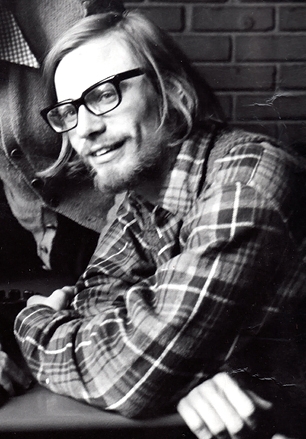 Rock music criticism lost a true original last week. Paul Williams, the man who founded Crawdaddy magazine from his college dorm room at the age of 17, passed away March 27, from complications arising from a bicycle accident that occurred in 1995! He was 64.

Crawdaddy, whose first issue hit the streets in January, 1966, a full 18 months before the first issue of Rolling Stone, was the first national magazine of rock criticism, and Williams was the first journalist to take Rock n Roll seriously as an art form and write about it as such! The writing style Williams pioneered created modern rock criticism as we know it! Crawdaddy influenced every Rock magazine to follow it, and I'm sure that even writers like Hunter S. Thompson had to be aware of it!

Williams championed young writers like Jon Landau (now Springsteen's manager and producer), Sandy Perlman (producer of The Clash), and Richard Meltzer! We used to breathlessly wait for each issue like it was The Word of God Himself! It's difficult to understand how important Crawdaddy was at the time, living today in our always connected universe! Magazines like Crawdaddy were the distributors of information and the counter cultural lifeline to suburban hepcats in the making! They built bridges between regional scenes and brought record company attention to artists who otherwise would probably never get any. When a new issue came out, it was the highlight of our week!
---
Reservoir Music Notes - Michael Johnson Profile, Live Music Picks
March 29, 2013
This is shaping up to be a great summer for music! Touring this Spring and Summer are Eric Clapton, The Rolling Stones, Fleetwood Mac, The Black Crowes, Tom Petty and The Heartbreakers, Further, and The Eagles. I'm sure we'll hear more announcements, but I'd say that's pretty impressive, so far!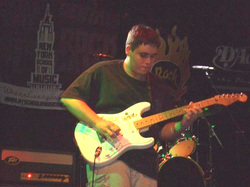 Also impressive, is the talent of a young guitarslinger whom I recently mentioned here, one Michael Johnson, of Grahamsville, NY! Michael is 17 now, and has been playing guitar since he was 9! Michael's father has been taking him to open mics since he was 12, where he's impressed the likes of Slam Allen, John and Chris Reddan, and just about everyone who's heard him play! Slam Allen said Michael plays better than most adult guitarists!
Michael loves the Blues, and his strongest influences are Jimi, Stevie Ray, Vernon Reid, and similar like-minded players. He can play anything he puts his mind to, and this week performed an acoustic version of Eric Clapton's "Tears in Heaven" with his school orchestra, at the orchestra leader's request! The electric Blues is where Michael shines though, and where he gets to really wail and put his heart and soul into his playing. It's where he gets to really cut loose and play from the heart!
---
Alvin Lee Obituary
March 28, 2013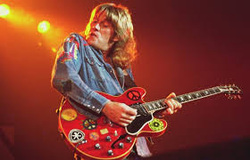 Alvin Lee first exploded into my consciousness on one of the most memorable weekends of my life! It was August 2nd and 3rd, a Friday and Saturday night. The year was 1968.

Friday night, I had a 2nd row ticket to see a band from San Francisco that was generating a huge buzz, specifically about their singer, a young woman named Janis Joplin. The band, of course, was Big Brother and The Holding Company!

The opening act was a band from England that I was unfamiliar with, but within 10 seconds of their opening riff, I was eager to become much more familiar with them! That band was Ten Years After, and their guitarist was the fastest guitarslinger in the land, up to that point! Alvin Lee was mindblowingly fast, yet always remained tasty and in the groove! I had never seen anyone like him, and I don't think anyone else had either!
---
Reservoir Music Notes
January 31, 2013
Wow, are we in the middle of a Winter slump! Not that it's been that hard to find some good live music to check out, but the overall amount of choices have declined massively! Well, things will pick up in March. Until then, hunker down, bundle up, and wait for the guitars and drums to thaw out. It's only another month or two until Spring!

Joey Eppard and Chris Gartmann of 3
at UPAC, Kinbgston, 9-13-12
Photograph by C3 Photography, Catharina Christiana
Fortunately for those of us in the Hudson Valley, the folks at The Bearsville Theater have stepped up their game in recent months, and they're not letting any grass grow under their feet just because it's cold outside! Two weeks ago, they had The Wailers and NRBQ in one week, and this week, it continues with THE DUKE MCVINNIE BAND on Friday, February 1, and THE BAND 3 on Saturday, February 2!
I've written about both of these bands in past columns. Duke McVinnie Band was my Pick of the Week in my column of 9/4/12 for their last show at The Bearsville Theater on September 7, and I reviewed 3's show at UPAC in my September 23rd column. Trust me, faithful and loyal readers, these two show are where you wanna be this weekend! Google both bands for more information.
Now of course, if you should happen to be in Manhattan before the weekend, and maybe you're looking for something to do, Americana darling, KATHLEEN EDWARDS is at City Winery on Wednesday and Thursday, January 30 and 31st.
And next week, after you've recovered from your weekend at The Bearsville Theater, GRACE POTTER AND THE NOCTURNALS are at The Egg in Albany on Wednesday, February 6.
So that's it for this week! What we lose in quantity, we make up in quality, with four great shows this week. Have a good one!
Fred Perry is the owner of Reservoir Music Center on Route 28 in Kingston, and founding member of Alt-Country supergroup, The Brooklyn Cowboys, is from a 3rd generation musical family and lives in the Hudson Valley, where he does what he can to promote live music.